Title:
Naki Hana
Circle:
hasunoha*vivi
Fandom:
Hakuouki
Pairing:
Okita x Saitou
Rating:
R
Pages:
28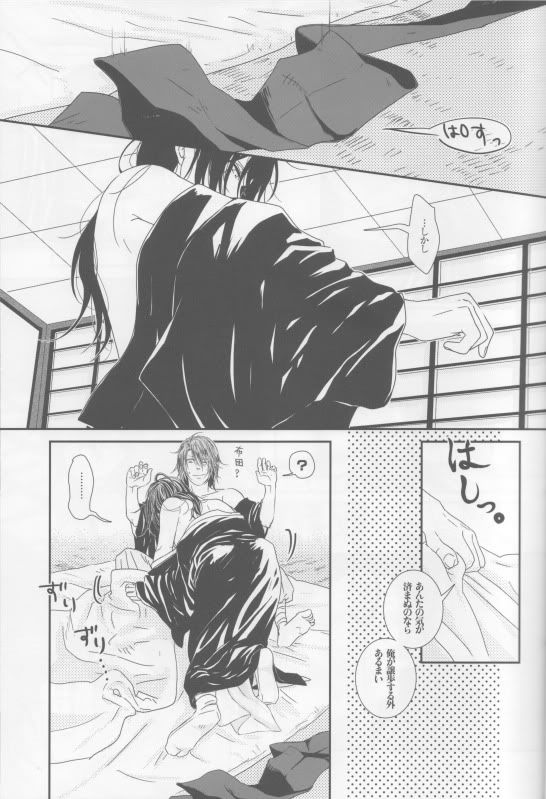 So I found a grand total of 3 yaoi Hakuouki doujinshi in all of DenDenTown (Osaka's version of Akihabara) when I went yesterday, and already I was jumping for joy. This isn't a usual pairing I ship, but I guess since the anime did Hijikata x Chizuru the two next (sorta?) main characters get paired up more often than not I guess...
So this particular book is extremely beautiful in real life. It has raised-up designs/patterns and everything; I've definitely paid more for lesser quality books. The art too is gorgeous - much more realistic than most doujinshi are.
No sex...but there is gratuitous kissing and Saitou and/or Okita on every page, so I'm rather happy with the buy.
Mediafire link is here.
Tell me if you guys have any problems dling or whatnot~
---------
I did find a couple of things about shopping for dj in Osaka (if anyone else ever visits this damn place...):
1) 2 Mandarakes, both flippin' impossible to find. Shinsaibashi's is huge (flagship?), and cheap - most of my Gintama Niwashi djs and Reborn 8059 dkb djs are from there, and they were all 210yen each. DON'T TRUST THE MAPS ON THE SITE they lead you totally astray D:
2) Melonbooks has a branch store called "Livret" which sells...prettier dj? More popular artists? Basically they pick and choose the artists instead of buying everything that exists out there (like K-Books). Thus, their selection is better (aaaand thus they actually have Hakuouki yaoi).
3) The Animate in Namba has dj in the back, but such a small section it really doesn't matter. Go next door to K-Books, it's way better (but can be expensive!!! But not as bad as Lashinbang...).
Basically...if you want to buy dj in the Hyogo/Osaka area, I now know all the places. Damn, it only took me seven months >.>;;;